Are you keen to escape the hustle of the city this weekend? As great as Perth is, it's important to get out of the city every now and then. Doing some fishing and enjoying the great outdoors can be therapeutic and a great way to relax after a hectic work week.
Western Australia is home to some of the best fishing spots in the world. There are so many places to fish, but Cervantes is an excellent spot for beginners and experienced anglers alike – it's one of the best fishing spots around Perth.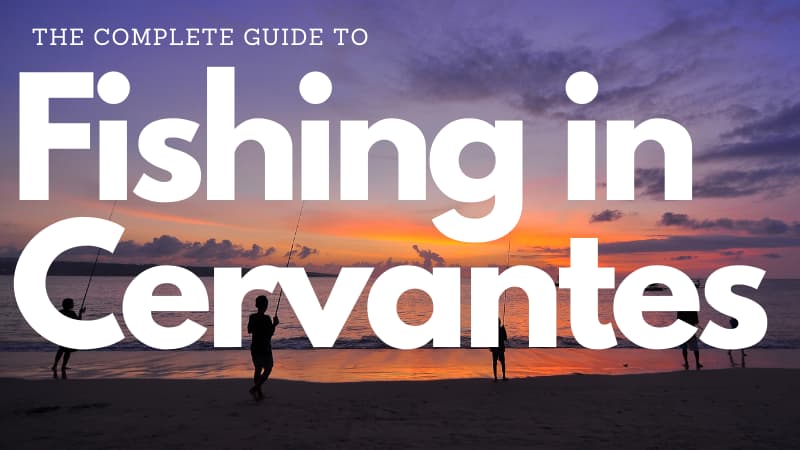 This article has everything you need to know about fishing in Cervantes – from where to go and what gear you'll need, as well as some handy tips on how best to prepare for your trip. So get ready for an adventure!
Why go fishing in Cervantes?
Cervantes is a small, quiet fishing town that overlooks the Indian Ocean, North of Perth. The area is famous for its crayfish and lobster industry, as well as the nearby Pinnacles Desert and stromatolites of Lake Thetis.
Cervantes was named after an American whaling ship that ran ashore on a nearby island in 1844. The ship itself was named after the author of Don Quixote – Miguel de Cervantes.
Being the beginning of the Coral Coast region of Australia, Cervantes is brimming with marine life. The beaches have bright white sand and clear turquoise water, and they are the perfect spot for recreational fishing, snorkelling, boating and diving.
Travelling from Perth to Cervantes
Cervantes is located on the coast about 200km North of Perth. Visitors can reach Cervantes in just over two hours by driving North along Wanneroo Road, which later becomes the scenic Indian Ocean Drive.
If you're looking for a stop along the way for a coffee or a stretch – check out Seabird or Lancelin; both offer beautiful ocean views.
What can you catch when fishing in Cervantes?
Cervantes is a fantastic spot to throw in a line and get rewarded with a range of delicious fish. Here are some of the fish that frequent the area all year round. Please note: bag and size limits below are accurate at the time of publication. Up to date fishing rules can be found at the Department of Primary Industries and Regional Development website.
Tailor
Tailor can be caught from Cervantes beach fishing spots as well as from the jetty. This powerful swimmer heads closer to shore in the late afternoons as the sea breeze picks up and they hunt in packs for smaller baitfish meals.
Tailor schools can sometimes be spotted behind breaking waves close to the shoreline at dusk and dawn – this makes them an easy catch from the beach. During the day, they can be caught in deeper waters further from shore.
Tailor naturally feed on smaller fish, so the best bait options when targeting them include whole baits such as blue bait, mulies, pilchards, scalie mackerel and guardies. If lure fishing, choose one that resembles a baitfish, be it metal or soft plastic.
Tailor is a vulnerable species in WA, so be sure to follow Recreational Fishing Rules when chasing this fish. The minimum size limit is 300mm, and the daily bag limit is 8 (and only two over 500mm).
Whiting
I have fond memories of catching whiting after whiting after whiting on fishing trips with my Poppy as a kid. They are my personal favourite – lightly floured and pan-seared! They can be caught off the beaches or jetty all year round but are most active in summer.
Whiting, particularly the yellow-fin variety, form schools in shallow, sandy waters, where they forage for food. This makes them an excellent option for beach fishing at Cervantes.
Their natural diet includes invertebrates, such as worms, molluscs and small crustaceans, so the best bait options are prawns, sandworms and blood worms. Small surface lures are a good option for lure fishing whiting.
Recreational Fishing Rules for whiting varieties detail a daily bag limit of 30, with no minimum size limit.
Silver Trevally
Silver trevally form schools and can be found at varying depths, from 10-230 metres. Adults silver trevally habitats can include open sandy bays, making Cervantes a great spot to catch them all year round.
Western Australia's Recreational Fishing Rules state the minimum size limit for silver trevally is 250mm, with a daily bag limit of 8.
Naturally, silver trevally chow down on worms, small crustaceans, and molluscs. Silver trevally can be caught on a variety of bait, including prawns, sandworms, or pieces of whitebait and scalie mackerel. If lures are more your style, try out the small metal variety or soft plastics that resemble worms or grubs.
Tarwhine (or silver bream)
Adult tarwhine schools can be found in inshore waters that are a little deeper or cruising through inshore reefs.
If you're fishing for tarwhine, you'll need to ensure they're over 250mm and you don't take more than 6 in a day to comply with the Recreational Fishing Rules
Tarwhines commonly eat small crustaceans; however, adults of the species tend to stick to a more herbivore diet, which can make them a trickier catch. The best bait for this species is whitebait or blue sardine.
Mulloway
The mulloway is a large predatory fish, and a big mulloway catch is a goal many anglers share! These gigantic fish can reach around two metres and length and 70kg in weight!
Mulloway hunt close to the shore, and adults don't tend to form schools. They are commonly found chasing schools of tailor, so they can sometimes be caught from the Cervantes Jetty or beaches when the tailor are around.
To comply with WA's Recreational Fishing Rules, you'll need to ensure your mulloway is larger than 500mm and that you don't take home more than two in a day.
Mulloway typically feed on smaller fish, crustaceans, squid, octopus and worms. The best bait for targeting them includes mulies, scalie mackerel and mullet. Soft plastic and swimbaits are the best lure options for the mulloway.
Herring
Herring can be found in inshore habitats where they school in large groups to defend themselves against a wide variety of predators, which include mulloway, salmon, sea birds and seals. In Cervantes, they can be caught from the jetty or off the beach.
There is no minimum size limit for herring, but you'll have to stick to a daily bag limit of 12, according to the WA Recreational Fishing Rules.
Adult herring feed on small and juvenile fish, small crustaceans, but in terms of fishing, herring will go after whitebait, blue bait and prawn bait options.
Squid
Interestingly, squid can be caught under the jetty at night near the lights.
There are no minimum size limits for squid, but there is a daily bag limit of 15 for a combination of squid, cuttlefish and octopus combined, according to the WA Recreational Fishing Rules.
Where to buy bait and tackle in Cervantes
Cervantes General Store stocks both bait and a small range of tackle. It's located at 2 Cadiz Street. 
The Best Cervantes Fishing Spots
Hangover Bay
Hangover Bay is one of the best Cervantes fishing spots. It's a 12-minute drive South of Cervantes along Indian Ocean Drive. Visitors can access the Bay via dirt road, but a 4×4 wheel drive is not necessary.
Hangover Bay is a picturesque and uncrowded beach, sheltered from southerly winds. As well as fishing, it's an excellent spot for snorkelling, swimming, and windsurfing. Visitors to the Bay may be able to spot dolphins and even the occasional sea lion.
Hangover bay is a great spot to go beach fishing for tailor. Whiting and herring are also frequently caught here, especially at dusk and into the night.
The area has Barbecue and toilet facilities, and dogs are not allowed.
Kangaroo Point
Closer to Cervantes off Indian Ocean Drive is Kangaroo point, which is a popular location for beach fishing. Birds like swallows and osprey can also be spotted in this area. 4×4 wheel drives are allowed on the beach.
Keep in mind that this area is a Special Purpose Zone, activities such as line fishing and netting from the beach is allowed, but other fishing and collecting activities, particularly past 100m from shore, are not permitted.
The area has Barbecue facilities so that you can cook up your catch straight away! It also has toilet facilities, and dogs are not allowed.
Fishing at Cervantes Jetty
Cervantes jetty is located at the end of Catalonia Street and is a great place to go fishing. For the best fishing, head to Cervantes Jetty at dawn or dusk. Anglers can try their luck at tailor, whiting, mulloway, and squid (particularly at night near the lights).
Thirsty Point
Thirsty point is a beautiful beach closer to Cervantes. It features a lookout, great for snapping pictures of the panoramic view. Follow Seville Street to access it.
Thirsty point is a great spot for beach fishing whiting, tailor, herring and mulloway.
Back Beach
Back beach is another option for beach fishing in Cervantes, close to Thirsty Point. Visitors can travel down Seville Street and make a left turn on to Barcelona Drive, which can be followed to the beach. This beach is 4×4 wheel drive accessible or a short walk from the gravel road for visitors without a 4×4.
Back beach is a great spot to catch whiting, tailor, mulloway and herring.
Best time of year to go fishing in Cervantes
Cervantes is a good fishing destination with a lot of fish species available all year round. However, keep in mind that beach fishing in Cervantes can be difficult during the winter months as seaweed washes up on beaches.
A note on particular marine species:
Crayfish season is November to June
Whiting are available year-round but are most active in summer
Tailor are available year-round but are most active in summer
Last words on Fishing in Cervantes
Heading up to Cervantes for a fishing trip is a great way to escape the busy city this weekend. There are plenty of fishing spots to be explored and varieties of fish to catch, so grab some gear, round up some mates, and head out on an adventure!
Fishing in Cervantes FAQ
Can you catch Squid in Cervantes?
Yes, the best place to catch squid is under the Cervantes Jetty at night near the lights.
Is fishing good in Cervantes?
Yes, fish such as tailor, whiting, tarwhine, mulloway, herring can be caught at Cervantes all year round.
Where can I fish in Cervantes?
You can fish off Cervantes Jetty or off the beach at Hangover Bay, Kangaroo Point, Thirsty Point, and Back Beach.
Where can I find fishing spots?
Fishing spots in Cervantes include Cervantes Jetty, Hangover Bay, Kangaroo Point, Thirsty Point and Black beach.
Can you fish off Jurien Bay Jetty?
Yes, you can fish for pink snapper, mulloway, tailor, whiting and squid from Jurien Bay Jetty.
Is Jurien Bay good for Fishing?
Yes, you can fish for pink snapper, mulloway, tailor, whiting, herring, Samson fish and Spanish mackerel at Jurien Bay.
What fish can you catch at Jurien Bay?
At Jurien Bay you can catch pink snapper, mulloway, tailor, whiting, herring, Samson fish and Spanish mackerel.
Recommended:
Looking for something different to do this weekend? Up for a game of indoor golf? Perth's newest entertainment venue, X-Golf Balcatta has you sorted! X-Golf …
Keen to explore nature this weekend? The Bells Rapids hike is one of the best bush walks in Perth! It's the perfect Sunday morning activity.